Hello UTV fans we are continuing with with Shadows of the Past (La sombre de la Pasado) this is what will be shown at 8pm tonight.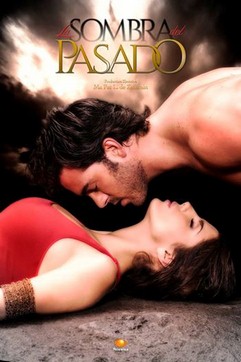 After Cristobal gave the news to Aldonza about Father Jeronimo's accident, Aldonza quickly in all of her tears and tremble, informs Adelina and they both left to the hospital to check on him.
Silvia after close of work goes to inform and plead with Renato's father to advise his son to come back and attend to his job since his job is now at risk since he left his job to do a different thing and their boss is angry. For Abelardo to be able to get to know vivid information on Silvia and also Renato so he can give to Severiano for him to be able to terminate the contract, he takes a taxi to follow Silvia where ever he goes unknowingly to her and through that, he is able to know Renato's house and that of Silvia's and he delivers the gathered information to Severiano as requested.
Severiano having the thought that he has already killed Father Jeronimo, he arrives home to tell candela that they should rejoice for it is the happiest day in his life and before he could finish his statement, Cristobal phone in to inform them about the accident and how he rescued him and all of a sudden Candela grows so nervous, left her food at the dining and off to the hospital and Severiano's face written with guilt though no one had an idea of what he's done.
Uriel continues to wonder to his wife about the missing money and Madam Emma suggests that it may be Abelardo so he should cast his mind on it if he was present at that time and Uriel suddenly recollects.
Thomas pays a visit to Prudencia after she called him and their sentiments rise and they begin doing their own thing but unluckily, they overheard someone coming inside so they put a stop to everything and hid Thomas in her bedroom before he left, he was able to steal Humberto's wrist watch unknowingly to Prudencia.
Humberto after attending to Father Jeronimo returns to inform his loved ones that, his condition is so critical that it will take few weeks before coming out of the coma since he's gotten two of his ribs fractured and collapse lungs. Aldonza quickly gets furious and continuously blames Severiano for causing that accident to Jeronimo though she has no evidence but she only recollects the threat he came to the parish to give him however not knowing the substance of the threat. Cristobal, Candela and everyone present becomes so confused and find it difficult to believe since Aldonza this time around to insist that Severiano has a hand in accident. Aldonza then sacked Candela out of the hospital and Humberto seconded that they leave because Father Jeronimo isn't their relative.
Candela upon getting home, she confronts her husband and slapped him and after questioned him to tell her about Aldonza's accusation towards him on having a hand in the accident and asked him if it is the truth but Severiano told candela that Aldonza is mad as usual since she always is used to blaming people for their misfortunes. Candela then tells Severiano that should in case she discovers that he caused the accident, she will be the first person to do the impossible for them to put him in jail.
Humberto arrives home to find out that his wrist watch is missing and after enquiring from Prudencia, she also has no idea and in that same vein Thomas has also gone to a jewelry shop to sell the wrist watch.
Abelardo sees a for sale house in Mexico and after doing his investigation, he gets to know that the apartment belongs to Aldonza and her family and quickly he delivers the information again to Severiano and they take a plan B about their next move and Severiano gives kudos to him and empowers him to get more information about every step of Aldonza for him.
Renato and Patricio returns to Mexico and after arriving at the office Silvia tells them everything they have to know. His boss arrive even after all the explanations and apology in the world that a servant can give to his master, Renato's boss still insists that Renato brings his resignation letter by the close of the day.
Stay tuned to Shadows of the Past (La sombre de la Pasado) on UTV from Fridays - Sundays at 8:00pm - 9:00pm

nyz




Posts

: 66


Points

: 209


Join date

: 2013-05-23




---
Permissions in this forum:
You
cannot
reply to topics in this forum