LA SOMBRE DELA PASADO (SHADOWS OF THE PAST) Hello great people, hope you are all doing so wonderful. We are continuing with with LA SOMBRE DELA PASADO (SHADOWS OF THE PAST),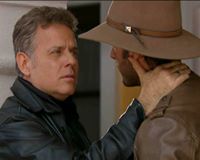 Cristobal goes to talk to his father that, he is ready to accept that Aldonza is his sister but on one condition that, he accepts to give half of his property to Aldonza if indeed she is his daughter but ones again Severiano becomes furious and refuses to do that and Cristobal tells his father that if he's actually refusing then it means obviously Aldonza isn't his daughter and Severiano tries to convince Cristobal that though Aldonza is his daughter he can't give el-Santuario lands to her because his only legitimate child is him and he has the right to inherit everything but Cristobal tells it to his face that he can keep it because he is not interested in anything that comes from him.
Severiano tells candela about Cristobal's proposal that he gives half of the property to Aldonza especially el-Santuario lands and candela tells him that he should have intentionally accepted it so to trick Cristobal and then later after he's married to Valeria, they can do anything to get it from her again but Emmanuel goes to ask Mary out for dinner and madam Emma upon seeing him confronts him to warn him not to try playing with her daughter because it hasn't been long her family lost their only son therefore if Emmanuel tries to hurt the feelings of her daughter again as he did to Lola, he will definitely have her to contend with and Emmanuel gives her his word that she could count on him.
Lola goes to inform Humberto about her grandfather's illness and she pleads with him to go check on him at the ranch but on one condition that he wouldn't let him know that he called for him to check him because her grandfather doesn't want anything to do with her and does not also want him to know that she is worried about him and Humberto assures her he will do exactly that. Emmanuel while having dinner with Mary, Emmanuel tells Mary that he's going to stand by her no matter what and that he will never leave him alone and immediately understood what Emmanuel said and she concludes by stating that she will be the good wife he would want her to be and Emmanuel's face looks nervous.
Silvia tells Renato that he is actually losing control over his situation with Aldonza to the extent of giving her money to buy el-Santuario, because if he thinks by so doing he is going to guy the love of Aldonza then he is a clear failure but Renato tries to convince Silvia he is only doing that to help Aldonza but Silvia still thinks his obsession with Aldonza is making him do the impossible and Renato becomes angry.
Carmelo senses that someone has entered the ranch so he goes after to check but unfortunately for him the person hits his head and he goes unconscious. At that same hour Aldonza was also going to give Carmelo's dinner to him and she finds him lying on the ground so in trying to go help him he is crossed by someone and it happens that Severiano is the man who made his way into the place. He attacks Aldonza and as usual starts with his caressing and kissing and he tells her that there is no way she can convince Cristobal to allow him give her half of his inheritance because it is never going to be possible and therefore he is warning her to stop giving out el-Santuario water to people because it doesn't belong to her but Aldonza though staged still challenges him and asks him to go away. Aldonza then helps Carmelo up and Adelina and Lola helps to treat him.
Patricio tells Silvia he feels so worried that Lola has broken up with him just because of hearing he went out with Mary and feels that he is interested in her too. Silvia then asks him to calm down because from what it may seem, she also feels that he is in love with Mary as Lola insinuates but if he is not so sure of it then he should try to speak things over with Lola and then he can have her back ones more.
Right from their dinner, Mary rush home looking so over excited to inform her parents that Emmanuel and her are engaged to be married and it comes as a shock to her parents since the news comes so sudden.
Through the help of Madam Emma and father Jeronimo, Uriel decides to resume work and he gives all thanks to his wife for being his strength and through their conversation she ask her husband about Emmanuel and Mary's engagement but Uriel tells her that he still have doubt about the whole thing because he can tell that Emmanuel is only doing that to get something from their daughter
The morning, Mary goes to speak with Lola about her engagement with Emmanuel and how very soon they are going to get married because she doesn't want her to hear it from anyone so she will misunderstand it and Lola becomes so hurt but he gathers the courage to congratulate Mary. Just within a minute, Emmanuel arrives also at the shop to see Lola to enquire about how she and Aldonza are doing but unfortunately for Emmanuel Lola brings up the issue about his engagement and marriage to Mary and when Emmanuel tries to explain to Lola that he said something and Mary understood it, Lola tells him not to be a coward and deny it and she congratulated Emmanuel also but unknowingly to him Lola turns to give him a severe slap on his face.
Renato goes to see Cristobal to hand over the divorce papers to him and looking at the scene candela and becomes so much happy about the situation.

---
Permissions in this forum:
You
cannot
reply to topics in this forum