LA SOMBRE DELA PASADO (SHADOWS OF THE PAST) Hello great people, hope you are all doing so wonderful. We are continuing with with LA SOMBRE DELA PASADO (SHADOWS OF THE PAST),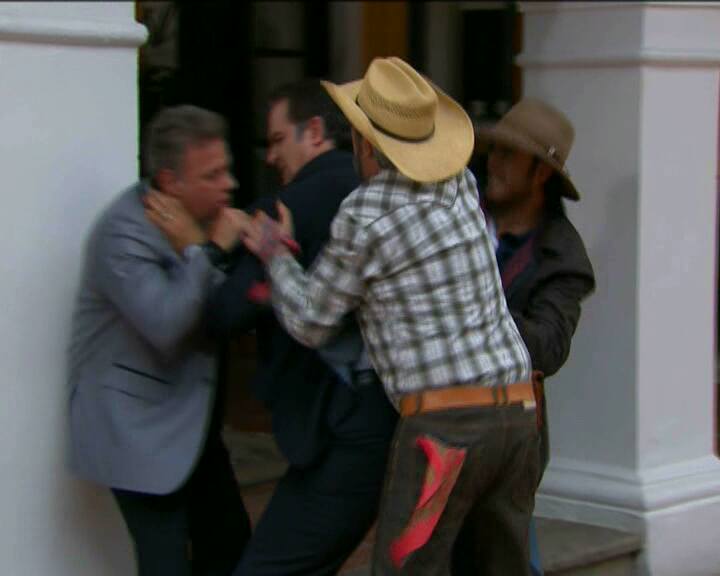 Renato goes to see Cristobal to hand over the divorce papers to him and looking at the scene candela and becomes so much happy about the situation. After Renato left, candela tries to be sarcastic towards Cristobal by saying she can really see that Aldonza is acting quit sensible and quickly Cristobal shuts her down and left the divorce papers on the table. Candela takes it up to tell Severiano that she can see that her plan to get them separated worked out perfectly and Severiano asks her not to be so sure of herself too much because Aldonza is a cleaver woman and he can really tell that she is planning something up also.
Renato goes straight to see Aldonza to inform her that he's given the papers to Cristobal and he actually can tell he wasn't pleasant in receiving it. Aldonza then tells Renato that he prays Cristobal never make things difficult for her because she is really in a haste to break ties with that family.
Cristobal becomes heart broken into pieces and feels like dying and he cries all his eyes out but Melesio consoles him and he tells him that all hope is not lost. He then takes his horse to confront Aldonza on why she took that decision to divorce and also making Renato her lawyer because everything shows that she is only using Renato so she can have him closer to herself after the divorce. Aldonza then tells him that Cristobal sounds sarcastic because Renato is the only lawyer she knows and besides he is even the last person to talking about that not after sleeping with Valeria. Cristobal explains to her that he was drunk and that led to that and Aldonza thinks it doesn't justify the situation. he then asks her why she is refusing to have the DNA Test with him so they can clear every doubt but she feels it is pointless but Cristobal warn her that if she doesn't do the DNA Test, he is also not going to give his consent to the divorce.
Candela calls Valeria to inform her about the issues concerning Aldonza asking for divorce from her son and how happy the whole thing seem to her and she tells Valeria to come home as soon as possible because she left at the wrong time since this is the time Cristobal needs her the most.
Humberto goes to check on Melesio and feels reluctant in in having the checkup but he accepts and later becomes annoyed with Dominga for not telling him that she will be bringing in a doctor to check on him. Dominga immediately sensed that it will be the doing of Lola because she cares about him.
The police officer goes to see Uriel at his office to give him information that their ongoing investigation is suggesting that Severiano might have a hand in Abelardo's death but since the investigations are not over yet he is asking Uriel to be discreet about it. After the officer left Uriel in full of anger goes to attack Severiano and hadn't not being the intercession of Cristobal and Melesio, he would have strangled Severiano to death. Cristobal then confronts his father to explain things about what Uriel accuses him of and as usual he tells Cristobal that Uriel is mad but Cristobal refers him to the fact that he said this same thing about Aldonza when she accused him of setting fire into their apartment but this is Uriel who is a best of his stating what the police officer said and he's again saying he is mad. Severiano tells Cristobal that he feels so insecure that his son does not even trust him and Cristobal then tells his father that it is too serious that he can't define who his father.
Uriel arrives home and Madam Emma asks him why he attacked Severiano and after all the explanation, she advises her husband to calm down and leave everything into the authority's hands and not to attack anyone for their son's death.
Severiano calls Adriano to warn him to stay guard and not to show himself in Santa Lucia because the police is looking for him and Adriano gives him his word and asks for his remaining balance and Severiano asks him to change his bank account so that he can send it through that without any suspicion.
Candela goes to ask Dominga to help convince Cristobal to make things up with Valeria but Dominga tells her that their plan to separate Aldonza and Cristobal will never work since Cristobal can't stop loving Aldonza just as she (candela) hasn't stop loving Jeronimo.
Father Jeronimo goes to the registry office and he finds Emmanuel's birth certificate and he goes home to show it to Adelina and they contemplate about the issue but Adelina feels very much afraid that they could cause a scandal but father Jeronimo tells her that they will not reveal anything yet until they are done with their research.
Aldonza confronts Severiano whiles they both drive and Aldonza gets down to warn Severiano that though he's been able to destroy so many things in her life and also has witnessed so many threats from him but she is telling him that none of these will even make her and family live town as he did to them at first but she is promising him of going to ruin his life to the must for everyone to know who he actually is and also will get everything that belongs to her back. Severiano tries laughing at her but she tells him point blank that she is going to give him a big surprise that will wipe away that laughter on his face and that he will forever be a coward.
Severiano goes to confront Humberto to warn him never to try to sell el-Santuario because if ever he does he is going to have him to contend with. Whiles they talk the secretary comes in with Emmanuel's birth certificate sent by father Jeronimo to prove to Humberto that he actually knows every truth about Emmanuel. Humberto after telling Severiano how Jeronimo keep insisting that he discloses to him who Emmanuel, Severiano gives him his word that he is not to get worried because he will definitely shut Jeronimo's mouth up.
Following this, Severiano to be able to shut Jeronimo's mouth concerning the issue, he intentionally goes straight to see father Jeronimo for confession and he discloses to him that, indeed Emmanuel is the son he had with Roberta, also he killed father Sixto and burned down Roberta's farms. He also set fire into Aldonza's apartment and was the one who caused his accident. He and Roberta were also responsible in shooting Raymundo his brother and one could tell that father Jeronimo's heart is filled with sadness and anger.
CATCH Shadows of the Past on UTV from Fridays - Sundays at 8pm La sombre de la Pasado

---
Permissions in this forum:
You
cannot
reply to topics in this forum