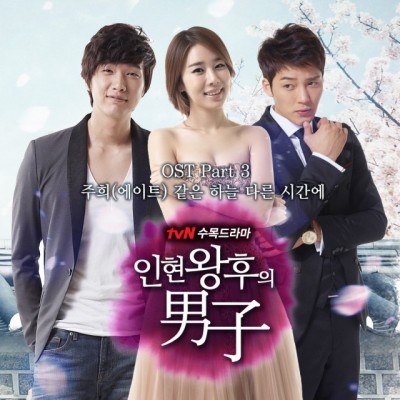 Queen In Hyuns Man 2012
Title: 인현왕후의 남자 / Inhyeon Wanghu-ui Namja
Also known as: Queen Inhyun's Man / Queen and I
Tagline: Meeting through a gap in time, their one and only love story
Genre: Romance
Episodes: 16
Broadcast network: tvN
Broadcast period: 2012-Apr-18 to 2012-Jun-07
Air time: Wednesday & Thursday 23:00
Synopsis:
Kim Boong Do is a scholar who had supported the reinstatement of Queen In Hyun when Jang heebin's schemes resulted in her being deposed and replaced as King Sukjong's queen consort. With the help of a spell when he is in going to be killed in a fight he travels 300 years into the future of modern Seoul and meets Choi Hee Jin, a no-name actress who is expecting a career renaissance through her role as Queen In Hyun in a TV drama. She helps him to know about the history of his time and change some events. After that they start to develop feelings for each other, but is it possible for them to have a successful relationship?Uploadboy.com
Queen_In-Hyuns_Man_E01_450p-MKV.mkv – 250.0 MB
Queen_In-Hyuns_Man_E02_450p-MKV.mkv – 250.1 MB
Queen_In-Hyuns_Man_E03_450p-MKV.mkv – 250.2 MB
Queen_In-Hyuns_Man_E04_450p-MKV.mkv – 250.2 MB
Queen_In-Hyuns_Man_E05_450p-MKV.mkv – 250.0 MB
Queen_In-Hyuns_Man_E06_450p-MKV.mkv – 250.5 MB
Queen_In-Hyuns_Man_E07_450p-MKV.mkv – 251.0 MB
Queen_In-Hyuns_Man_E08_450p-MKV.mkv – 253.5 MB
Queen_In-Hyuns_Man_E09_450p-MKV.mkv – 162.4 MB
Queen_In-Hyuns_Man_E10_450p-MKV.mkv – 159.2 MB
Queen_In-Hyuns_Man_E11_450p-MKV.mkv – 251.6 MB
Queen_In-Hyuns_Man_E12_450p-MKV.mkv – 250.9 MB
Queen_In-Hyuns_Man_E13_450p-MKV.mkv – 154.5 MB
Queen_In-Hyuns_Man_E14_450p-MKV.mkv – 160.7 MB
Queen_In-Hyuns_Man_E15_450p-MKV.mkv – 250.8 MB
Queen_In-Hyuns_Man_E16_450p-MKV.mkv – 250.9 MB
---
NOTE:You must be registered and logged in to access the download links above.

---
Permissions in this forum:
You
cannot
reply to topics in this forum