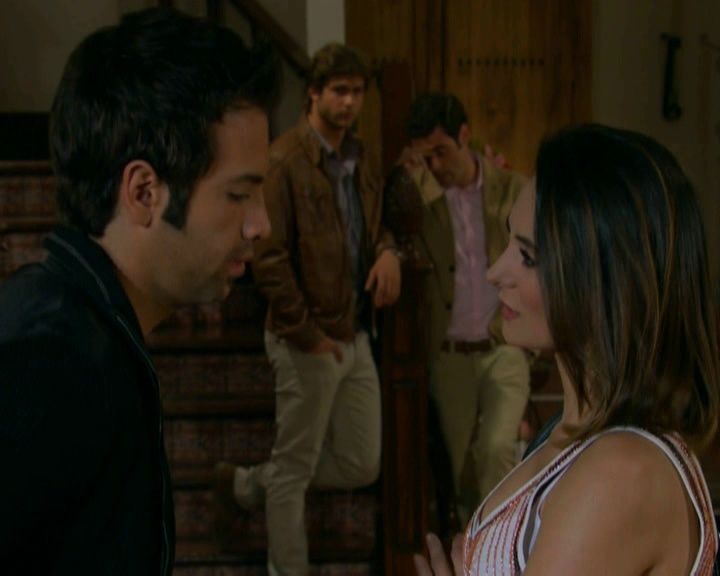 LA SOMBRE DELA PASADO (SHADOWS OF THE PAST) Hello great people, hope you are all doing so wonderful. We are continuing with LA SOMBRE DELA PASADO (SHADOWS OF THE PAST),
In that same vein Severiano becomes so disappointed in the workers and says to himself that he is surely going to make them pay for all that they have done to him by ruining his plans on Emmanuel.
Silvia takes Thomas' motor documents to after helping him to get one from authorities for him to freely be able to ride it without having to get in trouble with the police. She then invites him to go with him to el-Santuario to have fun and to keep her company as they celebrate Emmanuel's released from prison and Thomas accepts and after the got there and keeping each other company, one could tell from the look on Renato's face that he feels jealous with the way Thomas is going along with Silvia.
Aldonza gathers the courage and she spills Emmanuel's true identity to him the next morning and this comes as a big blow to him despising everyone around him since this only adds more sore to injury after knowing that Severiano is even father. He leaves in anger to wander around reflecting on his past on how he and Roberta met and the bond that existed between them.
Severiano wakes up from sleep and quickly he takes his gun to go shoot the horse (lonely) to death but thanks be to God Cristobal arrives to stop him on time and he tells his father again that he feels sick and pity for him and that is what provokes him to be his son. Cristobal then takes the horse to el-Santuario so they can protect it from being shot and Carmelo and Lola agrees to take care of it. After Lola asks Cristobal to meet Aldonza at El-Santuario so they can talk everything about Emmanuel. So, Cristóbal
Candela becomes so nervous as to whether Cristobal will be able to forgive him after learning the truth about Emmanuel and she tries defending herself to Dominga that she only hid Emmanuel's identity to protect Cristobal so they can live happily as a family without having any heir to interfere. Dominga inquires why she feels so nervous so candela tells her the truth about who Emmanuel's father is and it comes as shock to Dominga but she scolds candela for being so wicked to that extent.
Emmanuel goes to speak with Humberto to hear the truth from his own mouth and after Humberto disclosed to him how it happened, Emmanuel tells him that, from what he's done, he's destroy the great affection he had towards him as his Godfather and Humberto's continues to have unceasing tears as Emmanuel left him.
Cristobal meets with Aldonza at El-Santuario and she reveals to him about their sibling being Emmanuel and Cristóbal becomes so mixed with feelings whether to be happy or angry at his parents but he promised to put them in their place and also to make sure that Emmanuel gains the same rights as he has in La Animas.
Severiano confronts the workers about how they can actually bite the hands that feeds them and immediately, Emmanuel arrives to spit on him for being the most disgusting person he's known in his whole life and just when he tries to hit him Cristobal also arrive to defend Emmanuel and to confronts him on how he could actually send his own son to jail because not even heaven can forgive him for that. Emmanuel then tells Cristóbal that he doesn't want anything to do with him nor Aldonza and the overall Severiano Mendoza.
Cristobal goes after his father to ask for explanation but it seems Severiano never regrets all the bad things he's done towards emmanuel.
Cristobal leaves and whiles he climbs the stirs he bumps into his mother and she pleads with him to allow her explain things but Cristobal refuses stating that he's not in the mood to listen her blackmails again but candela tries blocking his way without allowing him pass so he can pack his things to leave the house until he admits to let her explain things. Cristobal gets furious and as he tries pushing his mother away to give him way, unintentionally on Cristobal side, candela falls down from the stairs looking so helpless after she rolls down the stairs

---
Permissions in this forum:
You
cannot
reply to topics in this forum