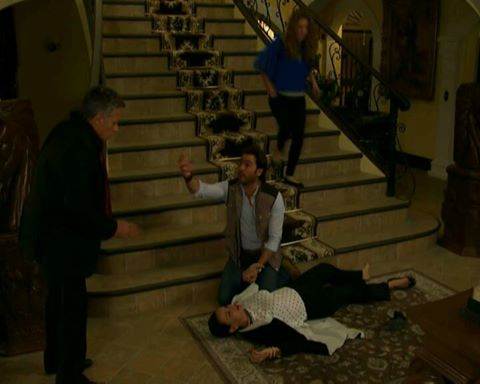 LA SOMBRE DELA PASADO (SHADOWS OF THE PAST) Hello great people, hope you are all doing so wonderful. We are continuing with LA SOMBRE DELA PASADO (SHADOWS OF THE PAST),
Cristobal leaves and whiles he climbs the stirs he bumps into his mother and she pleads with him to allow her explain things but Cristobal refuses stating that he's not in the mood to listen her blackmails again but candela tries blocking his way without allowing him pass so he can pack his things to leave the house until he admits to let her explain things. Cristobal gets furious and as he tries pushing his mother away to give him way, unintentionally on Cristobal side, candela falls down from the stairs looking so helpless after she rolls down the stairs.
Severiano arrives and he calls Humberto to inform him about the situation but unfortunately Humberto wasn't around since he left to the house after Emmanuel confronted him which made him to feel very dejected and Severiano becomes worried but he calls for a different doctor and after examination, he discloses to them that candela has broken her neck and therefore will need POP to use for the mean time.
Renato and his father meets with Mr. Antonio and his niece veronica and after disclosing to him that Severiano turns out to be Emmanuel's father and also a half-sister to Aldonza, they become very shocked but he still insists that Renato helps him to look for Emmanuel and he agrees.
Flabia tries doing everything to win Joaquin's love again but it seems there is nothing Flabia does that moves him as he even refuses to eat his favorite delicacy she even cooked for him and prefers to eat outside and this makes Flabia very downhearted.
Cristobal tells Valeria that Emmanuel is his brother and the only thing which she talks about it that then if that is so, Emmanuel will go as far as possible to get part of the inheritance but Cristóbal defends Emmanuel before her that she is not going to allow her speak evil about his brother because as it is, having inheritance is even the last thing on Emmanuel's mind.
Aldonza meets with Antonio and as they begin to talk about Emmanuel and the trouble he's been through at the hands of Severiano, Aldonza reveals to him how he also abused him sexually and it was at this time that Antonio reveals to her that Severiano also sexually abused a sister of his and since she couldn't live with the pain, she committed suicide. Aldonza then tells him that, she also wanted to kill herself but she encouraged herself that, no matter what that isn't the end of life and that is one thing that sometimes pushes her away from Cristobal.
Antonio added that, since his sister was someone he actually cherished, he's decided to leave one bullet in his gun for Severiano Mendoza but Aldonza advices him not to let Severiano push him to be a monster as he is because he is a good man. So, he tells her that if that bullet doesn't go for Severiano or he withdraws from shooting Severiano then that bullet will be for him but Aldonza calms him down and he became at piece by asking him to swear on his sister's grave not to kill himself or kill Severiano.
Mary sits before the mirror and she begins to reflect on the many evil things she's caused against Emmanuel and Lola and after she again reflects on the advice veronica gave her and she cries all her eyes out and therefore decides to spill out all the truth about where they can find Emmanuel since she saw him at the bar looking so worried and she thinks that it will be best for Lola, Aldonza and the rest to know Emmanuel's where about as they are desperately looking for him.
Candela tries to use her misfortune to tie Cristóbal down to herself by asking and pleading with him not to leave her alone if not she is going to kill herself but Cristobal tells her that she can't blackmail him with her sickness because as it is she has a lot of people to take care of him but Emmanuel does not.
Aldonza sends a voice mail to Cristóbal but since his phone was left in Valeria's room after checking on her, she deletes that message and after waiting for a while without any response from him, she goes with Carmelo to Las Animas to speak with him personally so he can assist her to look for Emmanuel but Joaquin them but she did everything possible to have their way through with help of Melesio.
Severiano also tries stopping Cristóbal from leaving his mother's side since now more than ever she needs him nut he tells him the same thing as he said to his mum that no one can blackmail him again with their words.

---
Permissions in this forum:
You
cannot
reply to topics in this forum