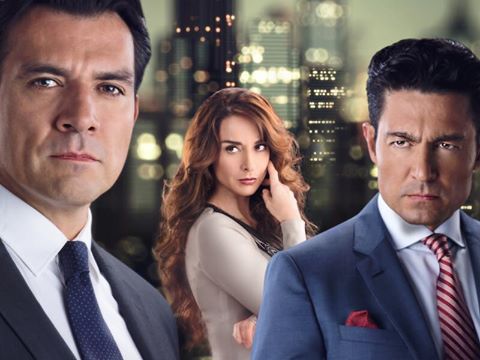 Helllooo great people, we are continuing with PASSION & POWER and in today's episode,
David takes Regina to the hotel and since she feels a bit tipsy, she sounds so funny and both of them feel that they actually are beginning to like each other a lot and they kiss. Regina wishes that David doesn't leave her but stay with her and David tells her that he is never going to repeat the mistake he made with Daniela. She asks him if he has a girlfriend or not and David says he can't explain anything to her since she feels so tipsy. Daniel then lies besides Regina and they talk things about their family till she dozed off and he covered her with a blanket and kissed her and then slept beside her to her guide.
Arturo advises Miguel not to interfere in the marriage affair between Erick and Consuelo but Miguel thinks that he is only doing things to make Consuelo calm down from all the harassment she has been receiving from Erick so therefore if her wants him to be away from Consuelo then he should speak sense into Erick to stop maltreating her and give him the necessary respect his wife needs.
Julia is scared because she thinks that Eladio's change is only going to be a temporal thing but Eladio tells her not to feel afraid because he is actually change for good and wishes to do everything to see her happy.
Daniela thinks her father is seeing another woman that is why he treats her mother of late like a trash and she guesses that there is another woman in her father's life but Arturo tells her to stop insinuating nonsense. Other matters, Arturo again asks her why she has to drop out of school because everything in her life makes him go crazy since he fails to understand why a great daughter of his only enjoys wasting her life partying instead of studying which is truly going to affect her future of earning a living. She tells her father that she only drop out of college as she never actually loved the course she chose but will do everything possible to go back to school.
Gisela says that Gomez Luna has to continue to give her cheque but on the other hand she is going to do everything possible to win over Franco because he is her grandson.
The association supports Arturo to be the president of the hotel association but Eladio tells Franco that, he isn't going to allow that to happen and will do anything to clear his name to open the hotel which was closed down and then with that will make sure Arturo pays for tipping the police concerning his fake license for managing his hotel.
Arturo wishes to plan a good campaign for the presidency of the association but Augustin thinks there is no point in doing that because he has no competitor now as the only competitor was Eladio but he is now out of contest. Other matters, Arturo goes of from the conversation and Augustin realizes and he questions him on where his mind has gone to and Arturo states that he seems not to forget able about Julia
Regina wakes up in the morning and she wonders what David is doing in her room so he tells her about everything since she looked so tipsy and Regina feels really embarrassed but David says she shouldn't feel ashamed because she did something he really loved and that she kissed him.
Eladio does everything possible to get a good license for his hotel and as Franco brings it to him, he wishes to show it to the association that he actually had good license and not counterfeit and that is going to sink Arturo and if that happens they will make him the president but Franco thinks it is going to be a bit difficult.
Eladio continues to impress Julia and this time around he gets some gorgeous dresses for Julia and Gabriela which they can wear for the modeling show so everyone will know how beautiful his wife looks and Julia grows so happy about this great gesture from her husband Eladio.
Family differences sets in as Regina thinks that though they are beginning to like each other but the fact is that they can't even be due to the hatred between their parents but David thinks they can still be friends.
Arturo tries giving out his ideas and plans he has in mind to offer the association if they vote for him and before he could end his statement, Eladio enters to present the original license telling them that one of his workers fail to carry the necessary procedures as told and that was how they accused him of using a counterfeit license but now the authorities have realized all was a lie. The association then says that mean he can contest for the position.
Arturo comes home looking so worried and after telling Nina about the situation, she encourages him not to worry because he will always beat Eladio to it. She again tells him that she is also going to cancel Regina's wedding to be a responsible mother as he always wants her to be and will also not bother him with her jealousy.
Everyone arrive at the charity event organized by Julia to launch the great and nice perfume to help the needy. Julia spots Arturo calls him and just when she was about getting closer to talk to him, Nina runs towards him and kissed him making Julia nervous.
David and Daniel agree to court each other and as time goes on if they realized their indifferences continues to not letting them be happy, they can back out without any hard feelings. After, David brings up the fact that he met Daniel at Cancun and they started something but it tantamount to nothing and this pisses Regina off since she thinks that David is only trying to play with sisters' feelings and slaps him.
Upon Eladio's arrival at the event, Montserrat walks towards him and tries coming up with how she wishes to be with him tonight but Eladio warns her not to start because he doesn't want his wife to suspect anything between them and all these while, Franco stirs from behind eavesdropping their conversation.
Everyone is having fun with their partner but Consuelo looks so lonely since her husband Erick is nowhere to be found at the charity program and she grows so worried and goes from up and down looking for him but never yield to anything.
In that same vein, Erick was Erick in one of the rooms having fun as usual and you know what I mean.
Arturo sees Eladio and Julia kissing and he stirs at them till Eladio get a glimpse of him nodding his head to sigh Arturo without Julia noticing.

---
Permissions in this forum:
You
cannot
reply to topics in this forum