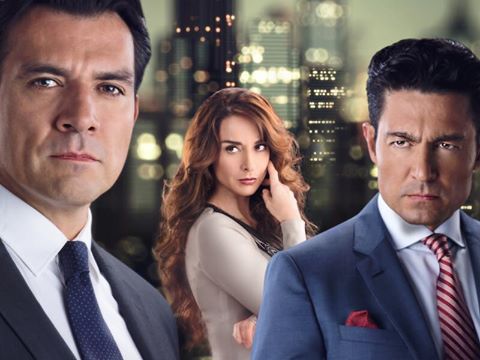 Helllooo great people, we are continuing with PASSION & POWER and in today's episode,
Arturo sees Eladio and Julia kissing and he stirs at them till Eladio get a glimpse of him nodding his head to sigh Arturo without Julia noticing. He then intentionally turns Julia to see Arturo and tells her he wishes to go greet him to welcome him to the occasion but Julia pleads he doesn't do that but he calms her down to relax. He then walks to Arturo to welcome him and they shook hands with each other and that is it and went back to Julia and she thanked him for not fighting with Arturo this time around and Eladio tells Julia that he sees Arturo at the as one of the donors for the charity program and not his enemy.
Montserrat and Erick continues to enjoy themselves in their closet at the charity program and as they decide going to the program after they were through, unfortunately the door was locked and they are now stuck in the room not knowing what to do.
David goes after Regina to plead that they talk and he discloses to her that, the main reason why he told her about his affair with Daniela was to be sincere with her so they could have a great relationship without lies but Regina thinks that nothing serious can happen between them considering the fate surrounding their families but David convinces her with the many coincidences that have come their way which any time they try moving away from each other they still crash again at a point which means destiny is trying to tell them something and not even the differences in both families can destroy that. They then kissed to bid each other good night.
Johnny goes over to Arturo's house to pick up his girlfriend Johnny for the charity event but she intentionally tells him that she has a headache and therefore can't go. He agrees and kisses her and wished him speedy recovery. The maid eavesdropped their conversation so after she asks her if she can bring her some pain killers to ease her pain but Daniela states that, she only made that up those statements only to make Johnny leave since there is no doubt that her standards are very high and no man she dates reaches that level. So she goes to the event by herself and her parent asks her the where about of Johnny and she actually told them she sent him packing because she realized she don't love him that much. waaaoooooo
Montserrat is nowhere to be found to model and launch the nice perfume and so Consuelo wishes to do it but before she wants to ask permission from her Husband Erick but she can't find him so she asks Arturo if he's seen Erick and after he asked her reason for looking for him, Consuelo tells Arturo and he gave her the permission take the model's place and this makes her so happy and quickly she goes to the organizers and they actually looked very happy seeing Montserrat back to the runway.
Erick then texts Daniela about being stuck in a room and she locates the place to open the door and left with her to sit beside their parents and he asks where his wife is and Arturo showed him that he is on the runway and seriously everyone says. Consuelo looks so pretty. Montserrat followed later and quickly goes to get ready to model but to her surprise Gabriela tells her that someone replaced her since they couldn't wait for her any longer.
After the show, Gabriela congratulates Consuelo for such a great performance and right after that, Erick goes after her to question her on why she has to model when he already have warn her not to and she explained everything to him and how Arturo gave her the permission since he was missing. Consuelo then smelled the perfume on Erick and she questions him on why he smells like that because the only one having that perfume is Montserrat and she also disappeared just like him and that means they were together and Erick thinks Consuelo is going crazy. In the heat of the argument, Montserrat enters and Consuelo asks her where he was and she replies that she got locked up in a room whiles talking to her stupid boyfriend who is a good for nothing. She then left them to continue their argument.
Miguel advises Regina to give David a chance and know him better no matter if he is a Gomez Luna and also not to give much into Daniela's act so not to lose David because Daniela will always be Daniela no matter what.
Consuelo exhibits the dresses and the prizes are being giving to the attendants and Nina wishes to get the dress in the same vein Eladio wishes to do same for his wife Julia so they begin to increase prices on the dress from 15000 and the Montenegro becomes the overall buyer of the dress buying it in an amount of 140, 000 with Eladio accepting defeat. This actually brought up a great tension and nervousness in the room since they all thought might end up in a fight but Eladio did everything possible to please his wife and even went as far as possible to shake Arturo's hands for his great cooperation and donation to his wife's foundation. They then introduced their wives to each other and Nina seeing how Arturo calls Julia with great passion without any formalities, she wonders where he actually knew.
Montserrat confronts Erick as to why he never told his wife that the both of them are in a relationship and sent her packing at that moment because she disrespected him by going back to the runway even after she warned her not to do it. Erick pleads with her not to create any embarrassment for him but she tells him that if he doesn't break up with his wife, he wouldn't see him again.
Augustin advises Arturo to control himself with this resentment he has against Eladio and also the love he has for Julia if not things are going to get worse.
Eladio confronts Arturo to ask him if he's noticed how well he and his wife Julia are now getting along and how they love themselves and he can doubt that Julia wouldn't even have been happy by his (Arturo) side even if they were together. Waaaoooo!! Seriously, No one would have known what might have happened if Arturo should have replied but luckily, Daniela arrives to pull her father away so they can go home as the event was getting boring.
Upon reaching home, Erick makes love to Consuelo and she looked so happy but Erick tells her not to misunderstand what took place between them but sharing bed with her is only proving to her that she is his and therefore can have satisfaction anytime he please and again warns her to stay away from that modeling.
Nina tries luring Arturo into bed but again there is this excuse of being tired and having headache and so on but she angrily tells him that, things are never going to remain as it is because she will definitely know his reason a day to come on why he rejects her.
Eladio gets a new phone for his wife as a surprise and she looks so happy and again he adds up that they have to pay a visit to their son David in Queretaro and Julia thinks it's a great idea.
Arturo calls his family to have breakfast and he seizes the opportunity to disclose to them that he's modify all the credit limits on their credit cards and cell phones of Daniela and Erick's because they are no longer at the age where they need to depend on parents for money since they are now working especially Erick and he is also married and therefore have to make him responsible. To Daniela he tells her that if she wishes to continue enjoying the privileges again then she would have to change how she goes about dress exhibiting her body to the whole world and go back to school. Miguel comes out of context since he behaves responsibly since he caters for all his expenses with his little earning from his work. And this comes as a great blow to the daddy's children but Nina tells their children not to worry because she is going to convince their father to make things stay the same as it was.
Daniela calls David to let him know how much she misses her and this was after David was sitting with Regina and she got up to get some coffee for the two. David then warns Daniela not to call him ever again because he is dating someone else.
Eladio takes a plane ticket and some cash to Montserrat asking her to leave to Europe and not come back into his life again because now things are going on well and do not want her to be a stumbling block between him and his wife because if she tries making another scene, he is going to make sure that all the doors to her modeling scenes, will be closed. Whiles she leaves the room, Erick also arrives right at the corridor holding flowers in his hands for Montserrat and he sees Eladio coming out and he grows so hurt but he hid himself so not to be caught but Eladio felt someone was there and he makes some steps back to check on who it was.

---
Permissions in this forum:
You
cannot
reply to topics in this forum